Energy-Efficient Dehumidifiers Available Throughout Eastern New England
Our energy-efficient dehumidifiers will improve air quality and control moisture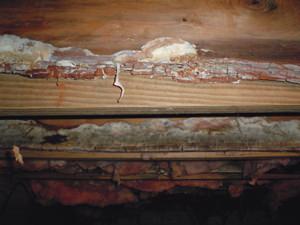 Mold loves moisture. One of most important benefits of dehumidifying a basement or crawl space is protection against a mold infestation. When wood and other organic materials remain damp because of high humidity, they create an ideal mold habitat. Effective dehumidification can prevent a damaging and hazardous mold invasion.
At Dr. Energy Saver, A Blackdog Affiliate, we can install a quality dehumidifier to reduce humidity in your basement or crawl space.
Basements and crawl spaces are below-grade areas where high humidity levels can cause numerous problems. Moisture that saturates "fluffy" insulation like cellulose or fiberglass batts will dramatically diminish the insulation's R-value and adversely affect energy efficiency. Moisture also helps to promote the growth of mold on organic materials like wood, paper and even some types of paint. Mold spreads by means of airborne spores. These microscopic organisms pose a serious health hazard. Musty odors and mold stains are telltale signs of excess moisture that is promoting mold growth.
Excess moisture can shorten the life of building components. Screws, sheet metal and other steel elements rust and deteriorate, while wood can succumb to rot, threatening the structural integrity of a building. Termites, powder post beetles, and other pests love wood with high moisture content.
Contact us today for more information and a free estimate for dehumidifier installation in Andover, Haverhill, Methuen or nearby.
---
SaniDry™ Sedona Dehumidifier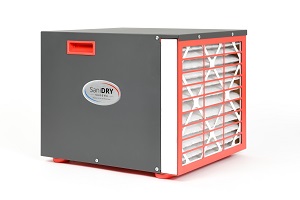 The SaniDry Sedona offers giant performance in a small package. It's the world's most efficient, high-performance dehumidifier, without a bulky heat exchange core. The Sedona easily fits in small crawl spaces, yet has a powerful blower to effectively dry large crawl spaces. Mold and mildew are common in crawl spaces, but the Sedona keeps the relative humidity below 55%, so mold won't stand a chance. As a high-efficiency ENERGY STAR® certified dehumidifier, the Sedona removes more moisture (100 pints per day) for less electricity cost than conventional models.
The SaniDry Sedona dehumidifier drains automatically and has a humidity sensor that monitors the air, so once it's installed, there's nothing else to do. Your crawl space will be drier and healthier - and so will the rest of your home too!
---
Effective dehumidification helps to solve moisture problems
Most energy experts will be able identify the need to dehumidify a basement or home in order to solve moisture problems. But as a Dr. Energy Saver dealer, Dr. Energy Saver, A Blackdog Affiliate has access to industry-leading moisture control and dehumidification systems, such as basement and crawl space dehumidifiers. Our expertise in basement waterproofing, crawl space sealing, and dehumidification enables us to deal with moisture problems like no other contractor can.
An effective moisture-control strategy in basements and crawl spaces is likely to incorporate air-sealing and insulation improvements in addition to dehumidification. This integrated strategy provides several benefits beyond moisture control: improved energy efficiency, healthier air quality, and a cleaner, better-looking space that improves your home's curb appeal. Learn more about the types of dehumidifiers available - we offer an exclusive line of crawl space and basement dehumidifiers designed specifically for basements and crawl spaces.
Start saving with a whole-house energy audit in MA & NH
Call us today to learn more about our indoor air quality services in Massachusetts & New Hampshire and get a free estimate for a dehumidification system. We provide a wide range of home comfort and energy services in Wilmington, Reading, Tewksbury, Methuen, Wakefield, Dracut, Chelmsford and nearby.
Looking for a price? Get a no cost, no obligation free estimate.